I think I've definitely fallen in love with my circular needles. It's just so cool knitting in circles! I'm using cotton DK so it grows fairly quickly and it's nice and clear to knit with. Here's a photo of progress so far, this is the rib at the bottom of a summer top:
I think this will definitely be tomorrow's train knitting on the way to and from London. Wonder how many funny looks/comments I'll get this time? Knitting socks on DPNs usually causes a stir. The best comment so far: "Aren't you a bit young to be knitting?" (!!!)
Being "young" does have it's advantages though, I discovered today. The
YHA
has just started doing cheaper membership for under 26s, so I'm just eligible! They also do
craft weekends
at some Youth Hostels, that looks quite tempting too. How about "Hooky and Proddy" - making rag rugs at YHA Windermere?!
When I woke up this morning I discovered a new friend: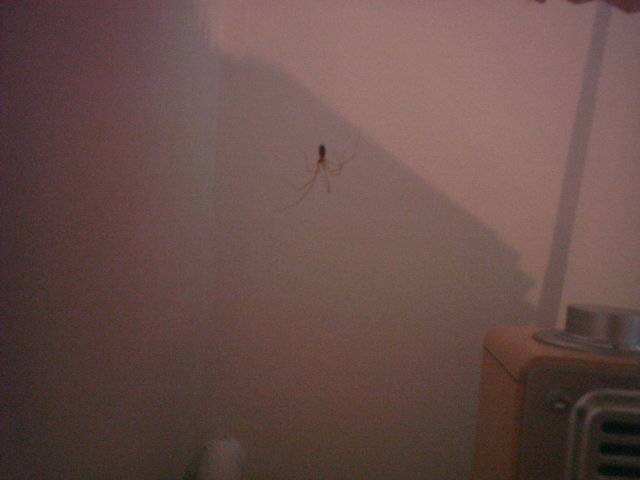 had set up home on the edge of my bedside light. Think I'll put him outside when the weather clears up a little. He'd spun a most impressive web, wish I could knit that fast.
Otherwise, today I've been working, apart from a little chocolate mission in the afternoon. I also took some compost down to put in the bin at the bottom of the garden. Hadn't been down there for about 10 days (before we went on holiday) and things have taken on rather a jungle-like appearance...
I've also ordered some Patons cotton from the Designs shop in Devon. They are having to retire as they can't rent their shop any more so are selling things off at about a 40% discount. Several people on UKHandknitters have mentioned it and Alan was very helpful when I emailed to see what was left. I've ordered some to make another top, as I'm really enjoying using the cotton on the circulars. I was going to say that it's better knitting cotton in hot weather, as the Rowan Polar was quite hot to work with, but it's not exactly been hot weather so far...
Anyway, I want to get the MYSTERY item finished tonight, and then on with the circulars - hooray!!
Oh and if anyone happens to be around in Lincolnshire on 25th June (Sat) - it's our first Knit Lincs meeting at the
Hub Craft Centre
in Sleaford between 2-4pm. But PLEASE let me know you're coming as space is limited!!