Well we've got back from our holiday to find that my herbs have grown an enormous amount: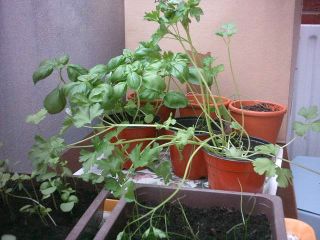 I suppose being away a week you notice the growth more than you would if you saw them everyday. They're getting a bit leggy though so I'll have to do some chopping (and eating!) soon.
I suppose I'd better refrain from putting ALL my holiday photos on here, although the people who've met me will know that I usually force people to look through all of them! I will attempt to limit pics to those that people reading this might find interesting... Here goes.
We went to a beautiful little village called Caldbeck. This is the church,
St Kentigern's
:
It's actually quite big inside and appears to be very active. There's a fair trade shop opposite (in a converted bus shelter!) which stocks a surprising amount. Fair trade is REALLY REALLY big in the Lakes and Keswick has now become a
Fair Trade town
.
Also in Caldbeck is a wonderful converted building containing various shops, including
The Wool Clip
- they had plenty of local wool, kits, knitted and felted items and stuff to look at. Bliss. I bought some Jacob sheep wool and a mixed pack to make a knitted lengthwise scarf (this was made by the
Spinning Gallery
in Cockermouth). There is also an extremely good cafe above the Wool Clip.
Another wonderful place to visit was the
Alpaca Centre
just outside Penrith. Here you can see the beautiful alpacas in the fields and buy alpaca products (plus cotton stuff from Peru). They have some fantastic garments and a small amount of yarn on sale. I bought some handpainted buttons, although the photo hasn't come out very well:
Other good/interesting shops were Shades of Wool and Indigo Knits in Penrith. Indigo Knits had some of their own kits and I acquired some more Opal sock yarn. Shades of Wool is more in the centre of town and is staffed by some really friendly & informative ladies. I also accidently (honestly) fell over a yarn shop in Cockermouth for some more sock yarn. I was a little disappointed that the
Lakeland Sheep and Wool Centre
at Cockermouth barely stocked any yarn at all, but the extremely enthusiastic Tourist Info man more than made up for it - I asked where the best place to park is for
Wordsworth's House
in Cockermouth and he drew me a map of every carpark in the town! I also thought Wordsworth's House was disappointing - it's been done up so it's very entertaining for children, with people in costume etc, but I thought it was a little patronising and there was hardly anything left in the house that was original (most things were replicas so they could be handled). Still some of the items the cook had made were quite exciting, it was just a shame nobody was allowed to taste them due to Health & Safety Regulations!
I think at this point I'll include my photo of my holiday yarn purchases:
I have various plans for it - including cushion covers, a summer top, two pairs of socks and a scarf so that should keep me occupied for a while.
I'm not sure if there's anything else to talk about? We didn't go to the cinema or theatre this time, or eat out much, although there was one place where we had a lovely lunch: the
Lakeland Pedlar
in Keswick. This is a cycle shop with a veggie cafe underneath and the food is wonderful - it was so nice to have a choice of sandwiches, instead of cheese (with or without salad) which you get in most places. It was very popular though and fairly crowded and must be even worse at the height of summer.
Oh, and I did finally finish Valentine:
Yes, there are some wonky parts but this is my first jumper finished so I'm feeling very pleased with myself!
Bye for now.